SANDERS FAMILY BLUEGRASS FESTIVAL HISTORY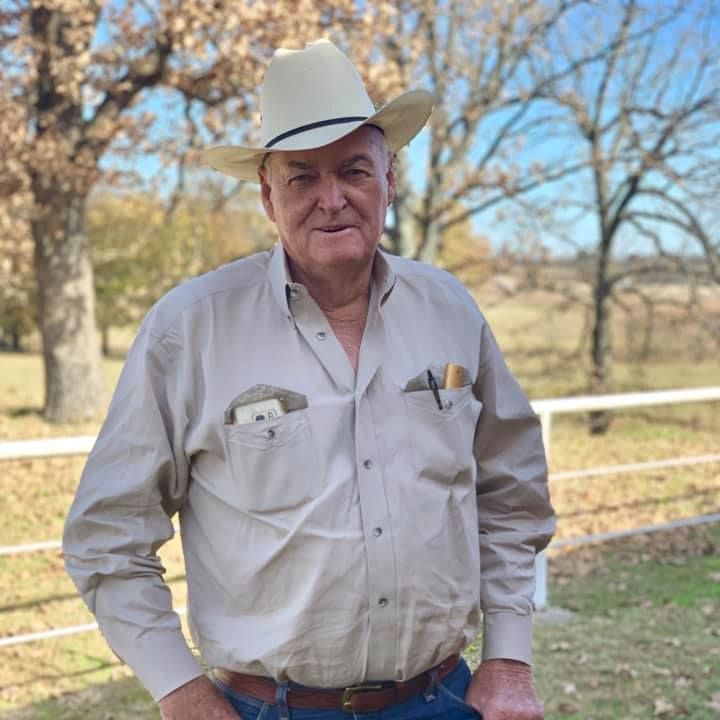 Oklahoma Music Shop: Sanders Family hosted Bluegrass Festival for 30 years
By Jim Paul Blair Mar 21, 2019
In 1965, Carlton Haney hosted the very first "Bluegrass Festival" in Fincastle, Virginia. Up until this time, bluegrass acts were competing for a limited audience. The festivals created a way for acts to collaboratively reach even bigger audiences. The early 1960s saw a resurgence of bluegrass, somewhat fueled by the folk revival. In August 1969, Bill Grant hosted the first bluegrass festival west of the Mississippi in Hugo. By the early 1980s, there were over 400 bluegrass festivals across the USA.
In 1977, the Sanders Family Bluegrass Festival began in McAlester. Like Grant's festival, the Sanders Family Festival featured the big names of bluegrass, including Bill Monroe, Ralph Stanley, The Lewis Family, Mac Wiseman, The Osborne Brothers, Doyle Lawson, and many others. By the time I began attending in 1981, the campground was packed with campers from all over the USA, many starting to create their camp weeks before the event began. Soon, I began planning my second weekend of June around the festival.
Fred Sanders had a band that served as the host band, Signal Mountain Bluegrass. I first met Fred at Grant's Festival in 1981. I had been grueling on the banjo for about 18 months, and Fred was kind enough to invite me to stay on the Signal Mountain bus. It was then I became acquainted with Eddie Sanders, Fred's son, and Virgil and Glen Bonham. Virgil and Glen had played for years in Bill Grant and Delia Bell's backup band, The Kiamichi Valley Boys, but had recently joined Signal Mountain. That weekend, Eddie and Virgil introduced me to other musicians such as Billy Joe Foster and Craig Fletcher. 
On Saturday of the festival, Signal Mountain had booked a show in Honobia but didn't have a banjo player. They trusted in me enough to invite me along to play that show, which also included backing my mother at Christ's 40 Acres. Before we made the trip, I climbed on the Signal Mountain Bus, thinking I was alone, to practice. While playing "Clinch Mountain Backstep," a gentleman came from the back of the bus, awoken by my banjo. It was Ralph Stanley! He couldn't have been kinder to me. In Honobia, I was nervous and struggled to get through the show. 
Virgil loves to tell how after the show, we get back on the bus to go back to Hugo and Fred had collected some watermelons that were lined up the walkway inside the bus. Fred tells me that they were unable to collect the fee for the show, but I could choose my choice of watermelon from the batch.
By 1984, I would show up to the festival with a bag of clothes, a toothbrush, and a banjo and stay with whoever had an extra bed or sofa. By then I had become acquainted with Mickey Flatt, another banjo player, and the legendary Don Thomas. One late night jam session that year, I ran into a guy I had seen on TV playing a four-string banjo. His name was Cliff Parrett, and I soon learned he was fluent on five-string banjo also. We ended up watching the sun come up while swapping licks and getting acquainted. Over the years, I spent many nights in the campground picking with Don Thomas, who was one of the world's best on banjo. To this day, I'm still trying to figure out how he picked for eight hours, drinking coffee, and never needing a bathroom break!
The Sanders festival was instrumental in introducing many players. I remember meeting Bill Monroe, The Osborne Brothers, and many others. More importantly, I made many friends, especially in the campground. Cliff and I were even caught off guard in the parking lot one year when Bill Monroe snuck up on us to check out the girls we were talking with.
Within a few years, I found myself playing regularly across the country with Virgil, Cliff and Mickey. Even touring Germany with Virgil and Cliff. The Sanders Family Festival continued through 2007. Eddie Sanders has continued playing bluegrass and writing songs, recently finding much airplay on the SiriusXM station, Bluegrass Junction.